Sunday, March 27th, 2011
Last post I promised sunny. The weather has been anything but, so I've had to make some sun instead.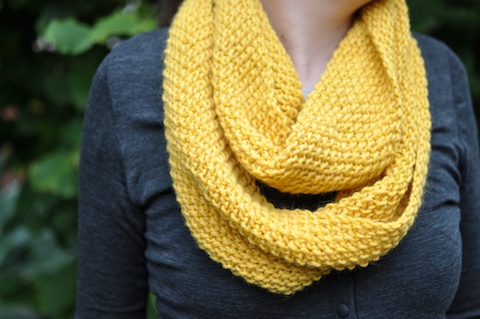 Gaptastic Cowl by Jen Geigley (rav link)
200g Bendigo Woollen Mills Rustic 12 ply, Sunflower
8.00mm needles
Start: February 2011
Finish: March 2011
Modifications: Smaller needles, cast on more stitches, knit fewer rows
Ravelryed: here
This is such a straightforward pattern, but the result is very pleasing. The pattern suggests making it 15 inches in width, but I only made it 8.25 inches. I never wanted to make it 15 inches wide as it would just be too bulky for me, but as luck would have it, I ran out of yarn just after half way. As it is, I'm really happy with the width.
For a long time I was anti-cowl, but this pattern has made my steely resolve waver somewhat. I'm still not a huge fan of the smaller cowls, but there are a few longer cowls that I might consider making in the future.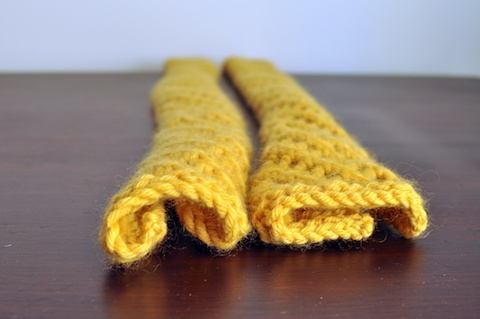 The yarn started life as a diagonal lace scarf. However, it curled badly so I ended up with a kind of draught stopper/rope thing. It seems much happier to be a big seed stitch cowl. It's possibly a little rough for use around my neck, but I got used to it pretty quickly.
I'm starting to feel like the kiss of death for certain Bendigo Woollen Mills colourways. Sunflower and the light grey I used in my Golden Hands striped vest, were discontinued a few years ago. This run continued last week when this year's shade card arrived — two lovely rusty red colours, Rust in Rustic and Tuscan in Classic, have also been discontinued. So, if there are any Bendigo Woollen Mills colourways that you're not a fan of, let me know and I'll start liking them. It's a surefire way to get them discontinued.
As a postscript to my last post, I've decided to frog Pickadilly. The more I think about it, the more I'm convinced that they problem lies at the yoke. I'm determined to make it work, but it does mean reworking the pattern (again) to make it fit well. As DrK mentioned, top down raglans aren't as easy as they appear on the surface, even though they're often put forward as the 'easy' jumper pattern. While seeing a jumper or cardigan (slowly) appear before your eyes is very alluring, it doesn't make it immune from fit issues. This pattern is a perfect example of that for me. Thank you everyone for you input, you all helped me take the in out of indecision.