Saturday, April 24th, 2010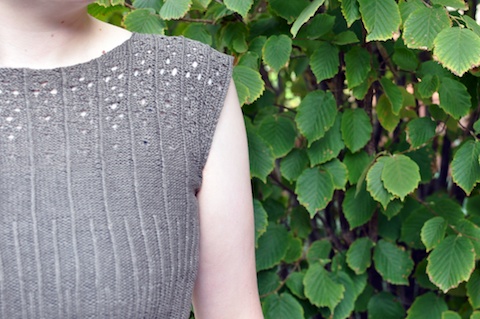 Bottoms Up by Alice Bell (rav link only)
2.5 skeins Louet Euroflax Sport, Graphite
2.75mm needles
Started: January 2010
Finished: April 2010
Modifications: Knit a size smaller due to heavier weight yarn, added length to the body, used slip 1, knit 1, psso rather than knit 2 together through back of loop
Ravelryed: here
I didn't think this top would get a wear until later this year, but because of some unseasonably hot weather down here, I wore it to work yesterday. Although it's probably a bit more fitted than other versions out there, it was really comfortable. This bodes well for Spring/Summer.
A few modifications were made, but the length was the most important. In the pattern, the body is made up of four sections of ribbing, consisting of 40, 18, 18 and 10 rounds. After reading comments about this pattern, I knitted 60, 24, 24 and 15 rounds, respectively. This added around about 12 cm to the length of the garment but I still think it's a tad too short on me. Short enough that I won't be wearing it with trousers anyway; just high waisted skirts.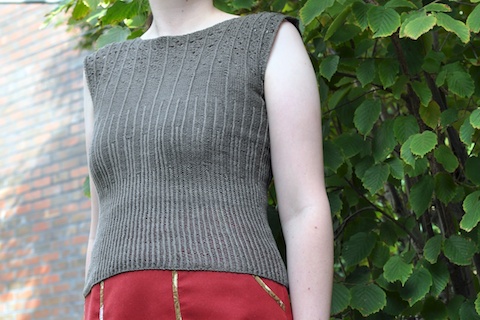 Length seemed to be an issue for a number of people on Ravelry who made Bottoms Up. The designer commented that it was designed for someone of average height (by american yarn standards). I'm above average height, particularly in terms of torso length, so I expect to have to add some length to almost all patterns. However, 12cm seems a lot of length to add for a garment to still be a bit short, even with my preference for slightly longer tops.
I've thought quite a bit about whether I'm being reasonable in my frustration, and I don't think I am. The designer offers this pattern for free, which is very generous, and I do have a garment from it that will get a lot of wear. The instructions in the pattern are clear, it's just the length that was an issue. Ultimately, at this stage of my knitting career, most patterns should just be treated as serving suggestions — if I need to change something to suit the recipient, then so be it.
When the yarn was last mentioned, I hadn't started the yarn over 'bubbles'. There are decreases each side of the yarn over, which was quite hard on my hands. The fabric itself is lovely and heavy, so while my hands will need a rest from linen, I suspect I will be working with it again. Particularly after seeing this version of Orangina. Sorry hands, you'll just have to toughen up!