Breaking up is hard to do (sometimes)
April 17th, 2010
Decluttering is good for the soul. At least, that's what I've been telling myself while sorting things into 'sell, op shop and throw out' piles.
As part of the decluttering effort, I've been sorting out and selling some of my yarn stash. For the most part it's been really easy to decide what needed to be rehomed. For some of my yarn, the mere sight of it made me feel overwhelmed; what on earth was I going to use it for, and why did I buy it in the first place? That was a sure sign that it needed to be sent to someone who'd appreciate it more than I ever could.
The hard part of destashing is deciding whether to keep yarn I really like, but is not quite right for the projects I like to work on. A really good example is a jumper's worth of Bendigo Woollen Mills Rustic 5 ply in Green Tweed that I own.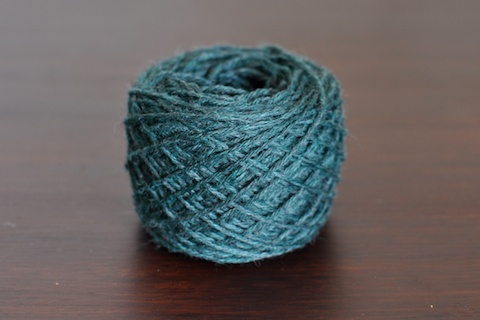 I've shown this yarn here before, when I was having trouble deciding on a project. I'm contemplating destashing it, but am having a hard time letting go. Rustic is my favourite yarn from the Bendigo Woollen Mills range, and 5 ply is a suitable weight for some of the vintage patterns in my collection. It's a shame that it was discontinued quite some time ago.
However, I'm a bit stuck on the colourway. It's not a colour that I'd ordinarily wear. This isn't necessarily a problem, sometimes it's good to branch out and try things you wouldn't ordinarily. I just don't know if I can risk expending all that effort on a garment (does that make me a product knitter?) to find I won't wear it because of the colour. That last sentence might be a sign that the evolution from process to product knitter is beginning.
It seems so silly to feel so unsure about getting rid of some yarn, but I'm almost convinced I'm not the only one that suffers from stash separation anxiety.