Sunday, June 17th, 2012
The last of 2011's yarn miscalculations was rectified early last month when I completed my woodland capelet. Unlike Matt's scarf, I only slightly miscalculated how much yarn was needed for this project and like Matt's scarf, it was a fellow knitter on Ravelry who helped me out.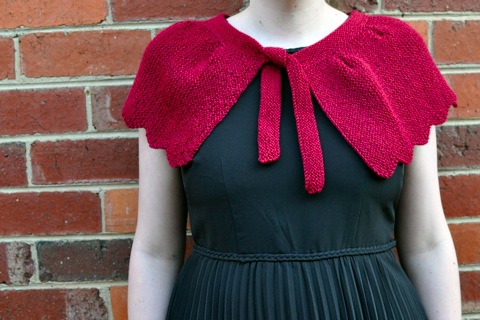 Woodland Capelet by Susan Mills
200g(ish) Bendigo Woollen Mills Allegro, Scarlet
5.00mm needles
Started: September 2011
Finished: May 2012
Ravelryed: here
It wasn't finished in time for Capril nor the last of the warm weather, but I'm glad it's finished all the same. It's an easy pattern, but constant increasing and decreasing meant that I had to be paying at least a little bit of attention while knitting it. I think the scalloped edge turned out really well and the ties look quite good in garter stitch. The only reservation I have with the pattern is the shaping around the shoulders. The method used to create the darts was a bit fiddly, and resulted in it looking a bit lumpy at the top of the capelet. It is still an entirely wearable garment, but I can't help but think there must be a better way to incorporate shaping into an item knit from side to side. I doubt that short rows would really work in this instance, so what that better way is, I don't know.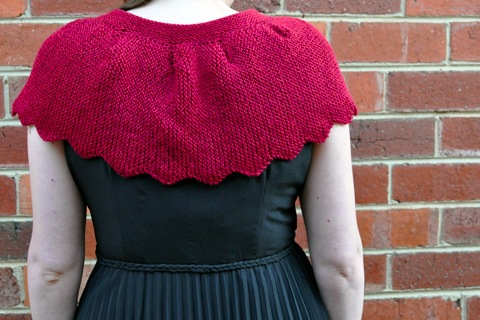 This yarn was a problem child in my stash. It was an undersized ball of yarn purchased from the Bendigo Woollen Mills, and was going to be used for contrast heels and toes. Then it was going to be a pair of knee high Kalajokis. Finally, it ended up as this capelet. Even though it had a tendency to split from the get go, it held up remarkably well to being frogged and reknit many times.
The colourway I used, Scarlet, had a few strands of red-orange mixed in with the red. When it was knit up, the contrasting orange meant the fabric had very subtle variations in colour which I think worked well. If memory serves me right, all the colourways in the second edition of Allegro had darker contrast colours, which wasn't as subtle and a little less to my liking. All of this is more or less useless trivia, as Allegro was one of Bendigo Woollen Mills' limited edition yarns and it appears to be sold out.
With the exception of Pickadilly, which is coming along quite well, my backlog of 2011 WIPs has now been cleared. This means I need to start thinking about an appropriate celebration when the backlog has been properly cleared. At the moment, I think a tickertape parade through the middle of Melbourne would suffice…