The sum of parts
February 9th, 2011
In the last week I've politely asked the pattern reading fairy to leave, downloaded more podcasts and got on with the job of knitting and finishing. Thanks to DrK for alerting me to the fairy's existence (made it much easier to get rid of her once I knew she existed!) and everyone's podcast suggestions.
The sudden burst of motivation has resulted in the near completion of My Golden Hands vest. It's probably really silly to feel like this, but I find this part of a knitting project really exciting. No longer does it look like a pile of related pieces, but an actual garment. Even seeing the parts come together neatly with mattress stitch is still slightly magical. Small things…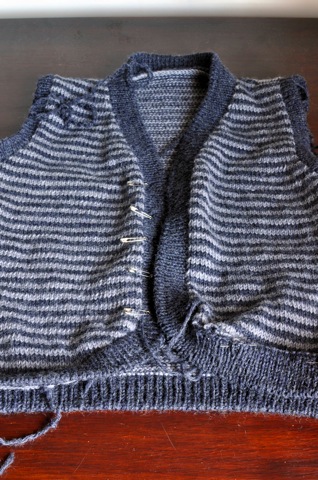 It turns out that adding light grey stripes was a really good idea. I've had to unravel my swatch of dark grey Rustic for seaming, which means that I had pretty much just the right amount of dark grey for the vest.
The most difficult, or more accurately, annoying, part of the vest so far has been attaching the button band to the front pieces. Because it's so long, I put it off as I thought it would be a tedious job. As is often the case though, once I started and got into a rhythm, it wasn't too bad. At the moment it's looking pretty good, bar slight lumpiness around the curved fronts. Let us hope a good wet block will sort that out.