Small diversions
December 1st, 2009
These are the small diversions I was referring to last post.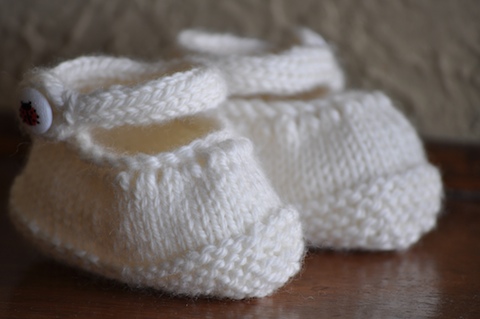 Tiny Shoes by Ysolda Teague
Scraps of 8ply Bendigo Woollen Mills Luxury, Cream
3.25mm double pointed needles
Started: November 2009
Finished: November 2009
Ravelryed here
A friend just had a little girl, and I've been wanting to try this pattern for a little while. Quite fortuitous really.
I initially started with Grignasco Bambi, but was concerned they were coming out a bit floppy. So, I upped the yarn to 8 ply Luxury and the needles to 3.5 mm. Although the end result is a lot more structured than my 4 ply attempt, it'll be a while before they fit. It pains me a little that the colour of the button doesn't quite match the colour of the bootee, but as soon as I spied the buttons at the shop, I knew they were going to be the ones for this project.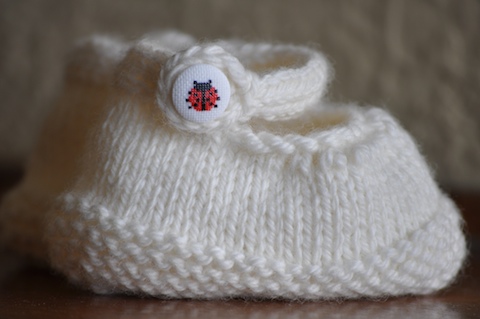 I'm now building quite a collection of projects made from Ysolda Teague's patterns, I think this is the sixth pattern of hers I've used. Beyond the look of the finished objects, I always learn something new about construction and find her patterns pretty clear and well written. In fact, there's only two instances where I've struck trouble; the top button hole of Liesl (a fix for that exact problem was sent out this morning, as luck would have it) and the cast on for Elijah (required a bit of mental and physical gymnastics to get it to work, but the effort is worth it). I guess some would argue that these are two issues too many, but in both instances they made me think about how I knit in a different way, and not in an angry 'I hate knitting' way, which I think is a positive thing.