Tuesday, November 24th, 2009
After many years, many mistakes, many stints in the naughty corner and much procrastination, Matt's Suave Sweater is done. It's a big mixture of relief that it's done and that it fits well, and sadness.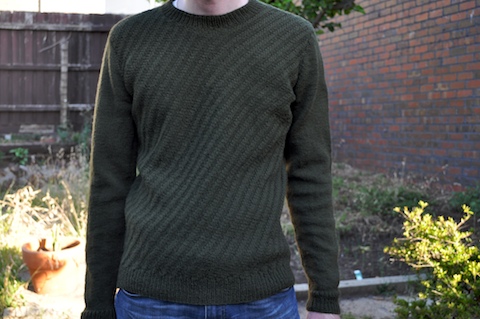 "Jumper" (seriously, that's what it's called) from Patons Bluebell pattern book 353, Suave Sweaters (circa 1970s)
5 ply olive green crepe from the magical and slightly mystical Bendigo Woollen Mills Bargain Room
3mm needles
Started: Some time during 2005
Finished: November 2009
Ravelryed here
If only I used Bluebell, this project could have been completed a lot quicker and with a lot less tears. However, I thought it would be a good substitute and was determined to make it work.
As I was finishing it off, I thought about all the things that have happened while it's been in my knitting basket. I remember working on it while on the tram coming home from the last time I saw Matt's dad before he died. I remember it being one of the 'special' projects that came with us when we overloaded my little car and made our way up the Hume nearly three years ago (but strangely, it was trusted with the removalists on our return. It must have been in the naughty corner at the time). I don't think there's been a project that has carried so many memories, but this may be purely because of the length of time it took to finish it.
Being a pretty plain diagonal rib jumper, it's probably an unremarkable project to everyone but me, but I'm really proud of it. I worked through the gauge issues, the sleeve cap issues and the 'losing the pattern' issues (thank you to Australian Country Spinners for helping me out there) without ever thinking about giving up. Best of all, it fits and he likes it a lot.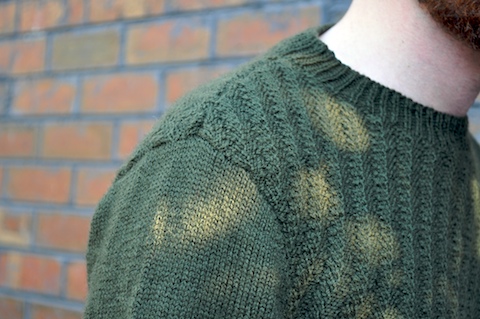 The only concern I have is the sleeves. Does anyone else think it looks a bit strange at the shoulder? The amount of staring at the sleeve cap may have warped my perception but it doesn't look quite right, a bit lumpy and baggy. Having said all that it's unlikely that I'll unpick it, it can just be a charming character flaw.
Now that it's done, there's one small diversion to deal with and then a new project can be started. I've been fawning over the yarn and pattern for the last couple of weeks when the end was in sight, so it will be most pleasing to get a start on it.