Hap Hap Hooray
November 8th, 2009
Overzealous yarn overs have been conquered, Hap is now finished!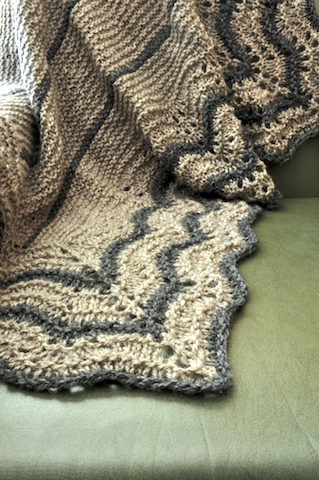 Hap Blanket by Ysolda Teague
1.75 skeins Countrywide 12 ply light grey, 0.75 skein Countrywide 12 ply dark grey
9mm needles
Started: September 2009
Finished: November 2009
Ravelryed here
As predicted, the hot days have started so it's unlikely Hap will be used for quite some time. Having said that, I do live in a city where I once got sunburnt and hailed on in the same day in December some years ago. The blanket did get a quick test run, and it's very warm and surprisingly large.
I was hopeful that this would be one of two Haps with this yarn; this one, and another with the colours reversed. Unfortunately I underestimated the amount of yarn required for the border. As I haven't seen this yarn elsewhere (one of the few drawbacks of picking up yarn at op shops), only one Hap will be made with this yarn.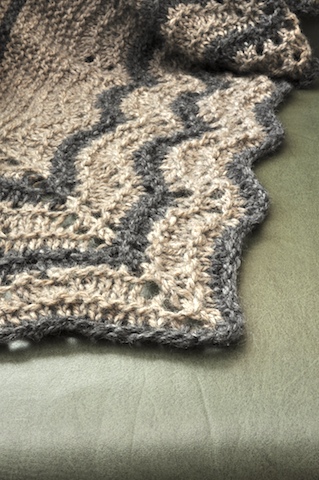 The border was pretty arduous, even with 9mm needles. The rows are long, and one small mistake can take a long time to frog and fix. There's no denying though that the border makes the blanket, so the slight tedium is worth it.