The road to non-blogging is paved with good intentions
May 2nd, 2009
The photos for this post were taken, what feels like, ages ago, and the brooch finished even longer ago than that. It feels like I haven't been able to take a breath all week, but now I have a smidgen of time to post before I get back to the madness.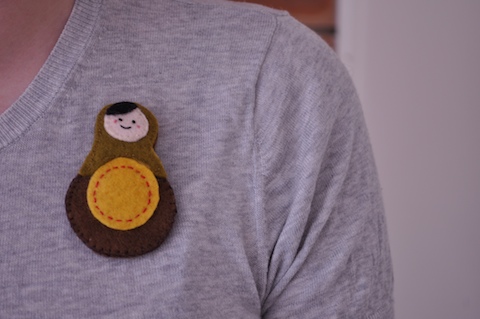 This is another Brown Owls project, designed by George. Mad props to George — I do think it turned out nicely. Her instructions were clear and the template worked well. She (the brooch that is) is yet to have its public debut, but I think today will be the day. Once I stop lazing about, that is.
While pondering this post, I decided that Brown Owls has been very positive for me. Knitting is the craft that I gravitate towards, but there are other crafts I'm keen to try but never seem to get round to it on my own. So far I've tried embroidery and making felt brooches, and not only am I pretty happy with how both of them turned out, I want to embroider more and make more felt brooches. Maybe once the craziness dies down.