On tea towels and iphones
April 10th, 2009
I finished embroidering my little Dutch girl last weekend. She's a bit wonky in places, but I don't mind. It was my first attempt at embroidery and I'm pleased I stuck with it to completion.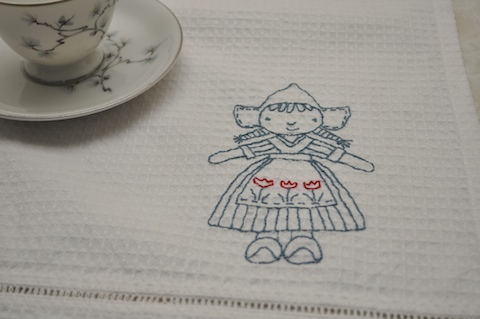 I have another tea towel sitting on my desk, ready to embroider. The set that the Dutch girl is from, Loopsies' Pretty Maids set 1, also has sweet girls from Bavaria, Russia, Poland and France. I can't decide which one to choose next!
In other news, my partner had an iPhone/iPod touch program released in the iTunes app store this week. I was very hesitant to mention it here, and to'd and fro'd about whether I should say something. Ultimately, I'm very proud of him and the program he's created and released, so I shouldn't be embarrassed to say something on my blog, my personal space. It's a program I've helped with from the word go, and I've been using for my knitting projects since December. So, if you are a knitter and an iPhone/iPod touch owner and are looking for a row counter, please consider Knit Counter or its free counterpart, Knit Counter Lite (both links to iTunes).
In both versions, you can have as many counters as you like, link counters together (good for if you're knitting something with pattern repeats) and put in increase/decrease alerts for projects where you have to increase or decrease periodically (eg. if you're knitting sleeves). You can have as many projects as you like for Knit Counter, and just a single project for Knit Counter Lite.
I've ended up rabbiting (excuse the pun, with Easter and all…) on a lot more than I intended to about the program. Full details can be found on his site, or on iTunes.