Madness, part one
January 6th, 2009
The last few days have been the hottest it's been this summer, yet I feel compelled to bake. On Sunday it was bread, and yesterday it was molasses biscuits. I've had them on my mind a lot recently, due to the use of molasses in this soap I bought from Lush recently.
I used the Sparkling Chewy Molasses Cookies recipe from Not Martha. If you are even vaguely interested in molasses biscuits, I recommend giving them a try, for they are absolutely delicious. I was unsure what sanding sugar was, so I rolled the dough in raw sugar and it turned out fine. It's also useful to know that 1.5 sticks of butter is equivalent to 170 grams.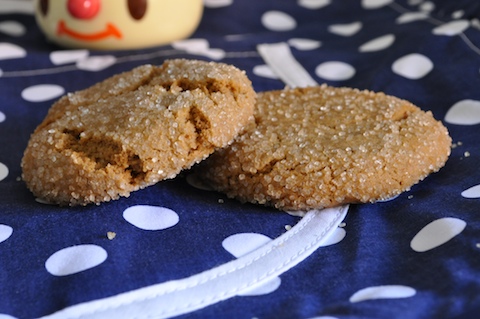 The biscuits develop surface cracks as they are baking. The recipe calls for tablespoon-sized balls of dough, which seemed to developed larger cracks than if the dough is shaped into discs. The biscuit on the left is one that started life as a ball, and the one on the right started as a dough disc. I think I prefer the deep crackly look.
Even though the days are getting hotter, I still can't get the urge to cook and bake out of my system. It's not made any easier when delicious morsels like this are being created.
Next up, the girl who made a very warm slouchy hat in the middle of summer!