Monday, September 17th, 2012
On occasion, I come across a knitting pattern that looks like a lot of fun, but isn't the sort of thing I would wear or use. In these situations, I've found that the best solution is make it and then foist the finished object onto an unsuspecting friend or family member. To make myself feel better about the this, I like to call the finished object a 'present'.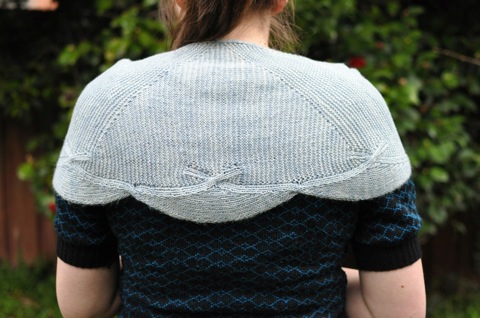 Marin by Ysolda Teague
Just shy of 100g Madeline Tosh Tosh Merino Light, Denim
3.25mm needles
Started: July 2012
Finished: August 2012
Ravelryed: here
As soon as Marin began to appear in my friend activity feed on Ravelry, I wanted to make it. Unfortunately, it's one of those patterns where it looks pretty, but I could never see myself wearing it. Luckily, I discovered the pattern shortly before a dear friend's birthday, so I was able to foist this version upon her. Even luckier, it was just the sort of scarf/shawl I could see her wearing.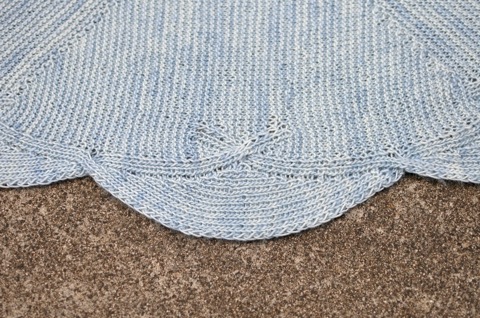 This pattern is a lot of fun to knit, with its ribbed scallops and reversible cables. However, it required a lot of concentration. There are several parts to the pattern, and I had to flick back and forth between the parts until at least one part was memorised. I tried to work on it while standing in queues during Melbourne Open House, but that ended with mild frustration and regret that I hadn't chosen a simple sock as my knitting project for that day.
The only part of the pattern I struggled with was the increases at the start. Even after reading the pattern several times, it wasn't immediately apparent (to me) how many times I needed to increase the garter stitch section at the start. The problem was solved after reading this very helpful thread on Ravelry about this pattern.
The yarn I used, a 4 ply, was a slightly lighter weight than the 5 ply called for in the pattern. Instead of using 3.75mm needles, I used 3.25mm, as the gauge swatch in stockinette looked much nicer in 3.25mm than 3.75mm. This was a mistake, particularly as the pattern doesn't contain any stockinette stitch. So while I think my version of Marin looks lovely, it's probably a little small even with aggressive blocking regime I put it though. There are quite a few people who have knit this pattern using Tosh Merino light, and they all seem to have used 3.75mm needles with good results. I don't think I've ever said this before or will do so again — don't trust the swatch in this instance.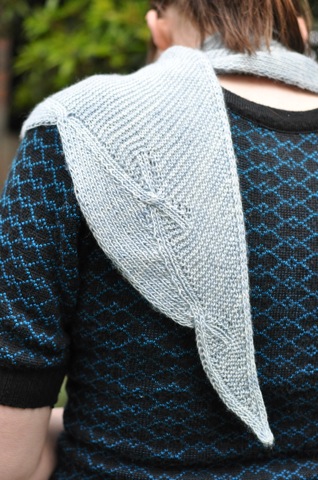 As I was knitting away at this, I grew to like it more and more, and my initial steadfast 'I'd never wear this' reaction started to crumble. Contributing to this wavering is the fact I've got some lovely MadTosh sock in Graphite in my stash without a project… Perhaps I could make it work for me after all.