Tuesday, December 9th, 2008
It's been ages since I got my sewing machine out, but true to my word, a wrap skirt was my second project.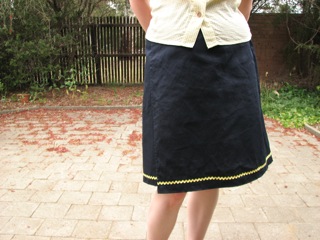 I promise I ironed it before I put it on, although it's quite clear from the photo my ironing prowess isn't up to scratch.
The pattern is Dana from Fitzpatterns, made with navy cotton drill and lemon ricrac. It is the first skirt I've ever made, and it turned out pretty well despite a few wonky bits of sewing on my behalf. I've already worn it once, and I'll certainly wear it again. Only two modifications were made; I decided not to have a kangaroo pocket at the front, and the length of the ties were doubled, so I could tie it in a decent bow at the back.
Mad props have to go to my wonderful seamstress non-blogging friend who helped me out a lot. Without her, it would have taken me weeks of on-and-off work to get it done, rather than just an afternoon and a bit.
I'd like to make this skirt again, but modify it a bit more again, along the lines of making the ties wider. However, I think I'd like to try a few more things first before making this again. I'm not exactly sure what I'd like to make next, but I'm itching to sew again. Knitting's still definitely my favourite, but the almost instant gratification of sewing is sucking me in.