Sunday, July 20th, 2014
Anyone with even a tenuous connection to any Australian knitters on Ravelry would know that the Bendigo Sheep and Wool show was this weekend. This year, I got there first thing on Friday morning. It's the first time I'd been on a Friday, and although I was mentally prepared for pointy elbows and doorbuster sale-style stampedes, it was all rather polite and calm (and cold!).
My approach to the show has become a running joke, because I can easily walk away from the Bendigo Showgrounds without any yarn in my hands. I think a lot of this comes from what is sold at the show; I'm not a spinner, and tend not to knit with semi-solid and or variegated yarn. Because of these rather strong knitting feelpinions, there are only a few stalls selling things of interest to me. This, therefore, makes it easier for me to walk away empty-handed. In spite of all those knitting dietary requirements, I ended up coming home with a few purchases this year.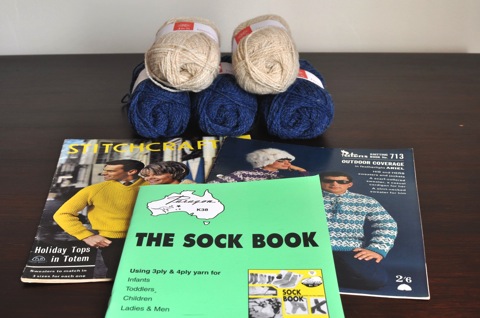 Prior to the show, I'd been considering knitting myself a new set of mittens. My old mittens have provided me with many years of good service, but they've begun to look quite tatty. They really didn't have much of a chance, given that one of the yarns I used was Malabrigo Worsted. They pilled like nothing else soon after the first wear, and it's been all downhill from there. Before I knew it, the show was upon us and there was no time to make new mittens. So, I did the next best thing and bought some yarn at the show to turn into mittens, hopefully in time for next year's show.
Instead of the soft and pilly Malabrigo, I bought for the exact opposite. Jamieson and Smith 2ply Jumper weight is rough and robust and perfect for a pair of mittens that will likely get knocked around. I've wanted to try this yarn for an age, so when I spied The Purlbox's stall, I made a beeline for the neat rows of lovely heathered colourways. Eventually the yarn will become a pair of Snowdrift Mittens, another pattern I've wanted to knit for a while.
Besides the yarn, the only other knitterly things I picked up were a couple of vintage knitting pattern booklets from Onabee. Nothing particularly exciting of note, but The Sock Book from Paragon has quite a few men's sock patterns in there that may result in socks for Matt at some point.
So, that's Bendigo for another year. Probably quite modest by most other's standards, but one of the most extravagant Bendigo outings I've had for a while.