Wednesday, January 22nd, 2014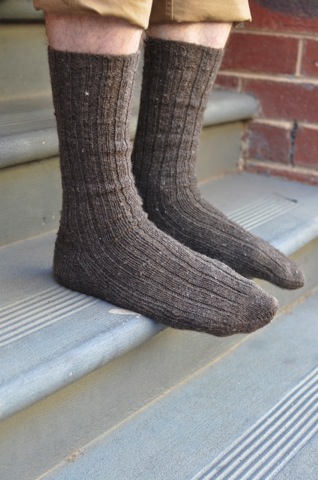 Sox (Dutch Heel) aka Design No. 1799 from Sun-Glo Knitting Book Series 15
110-ish grams Candlebark Country Socks Corriedale/Romney 5ply
2.25mm dpns
Started: July 2013
Finished: November 2013
Modifications: picked up more stitches around the heel flap, worked a few more decrease rounds at the foot.
Ravelryed: here
These socks were part of Matt's Christmas present last year. They were knit on public transport, at Stitches and Bitches and at various other points in time where Matt wouldn't see them in progress. Evidently I did a good job of hiding them, because he was thoroughly surprised (or so he tells me).
Both the yarn and the pattern came from Bendigo on the Sheep and Wool Show weekend. The yarn was from Corriedale/Romney sheep from a farm just outside of Bendigo, and the pattern from a stack of vintage patterns I picked up from the Sheep and Wool Show. I generally not location-loyal when it comes to buying things, there's still enough hometown pride left in me to be tickled by the Bendigo-ness of it all.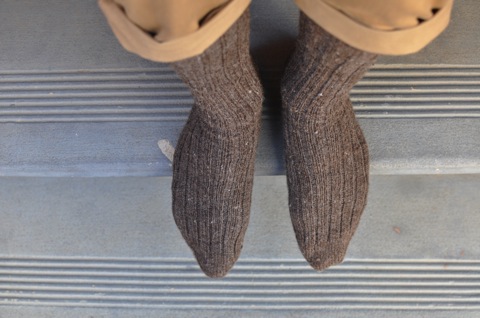 I think these socks are one of the best yarn/pattern combinations I've ever come across. The socks are pretty basic ribbed socks, but the rustic, slightly slubby texture of the yarn lends itself well to a fairly plain ribbed sock.
The yarn was quite good to work with. It still had a slightly greasy texture from the lanolin left in it, and there was a little bit of vegetable matter that was fairly easy to pick out as I went along. It turns out I quite like working with that kind of toothy, unrefined yarn; it's not something I'd really want against my neck, but even without nylon in it it seems tough enough to handle the wear and tear of being sandwiched between a foot and a boot.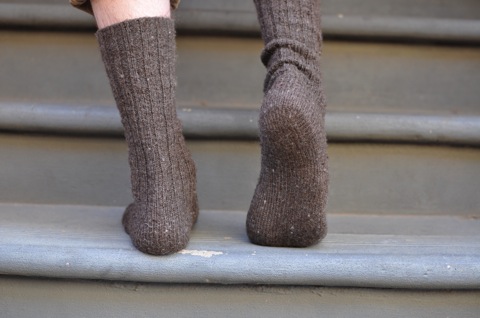 One thing about the yarn I didn't care for was the smell when I was blocking the yarn. Because of the lanolin content I was expecting a wet sheep smell, but as soon as it hit the water, it gave off a pungent camphor/petroleum smell. It was so strong that even though I was blocking it in a room with the door closed and the window open, the smell was still wafting into other parts of the house. Once the socks were dry the smell disappeared, but I'm not particularly looking forward to their next wash.
The pattern itself is fairly unremarkable, it's just a fairly long (4.5 inch cuff, 12 inch leg) sock with a dutch heel (which, incidentally, seems to be Matt's preferred heel type. Just so you know). The pattern book was published in 1940, so it's unsurprisingly quite utilitarian in its design. The only modification I made was to pick up more stitches along the heel flap and increased the number of decrease rows to account for those extra stitches.
All pretty straightforward, but a lovely result nonetheless.