Variation of Cable Stitch
November 20th, 2013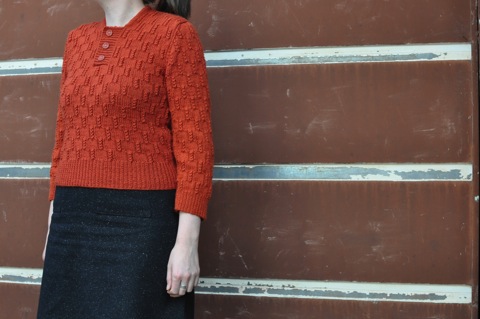 Variation of Cable Stitch From Hughes Book No. 208, Ladies Designs 32-36″
550g Morris and Sons Estate 8ply, Tuscan
4.00mm and 3.00mm needles
Started: April 2013
Finished: November 2013
Modifications: Shorter button placket, extended the collar to start/finish lower, narrower sleeves
Ravelryed: here
It is finished and I'm completely besotted with it. My confidence in it wavered a few times, but now that the buttons are on and I've been able to sneak in one wear of it before it gets too hot (thank you Melbourne weather), I'm very happy with how it turned out.
The orange is a surprise hit. As soon as I bought the booklet containing this pattern, I knew that orange would work well with it. The thing I'm most surprised by is how I like it, though it's unlikely to replace grey as my go-to colour.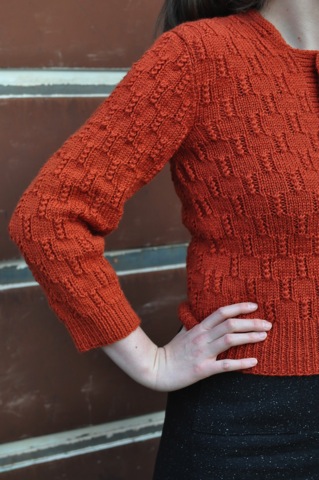 The modifications I made to the pattern were relatively minor. As mentioned before, I made a couple of changes to the neck so the top of the button band sat at the top of my sternum. This involved shortening the button band and lengthening the collar to meet the top of the button band. I also knit the sleeves in the smaller size, so they didn't billow as much. This did make easing the sleeve a little challenging, but I'm glad I opted for smaller sleeves. Even now, they might be on the biggish side, but it's nothing I cannot live with.
This project was another example of my inability to judge yarn requirements, as I ended up needing three balls from a different dye lot to finish the jumper. The dye lots were pretty close but still required a little bit of blending to make sure it wasn't really obvious.
The yarn felt like a standard pure wool 8ply to me; the stitch definition was great and it held up well to multiple froggings. It feels a bit itchy against my neck but it's nothing I can't handle. The only thing I'm dubious about is its claim that it's machine washable, because it felted like a dream when I used felted joins throughout the jumper. This one will never (intentionally) see the inside of washing machine for as long as its mine.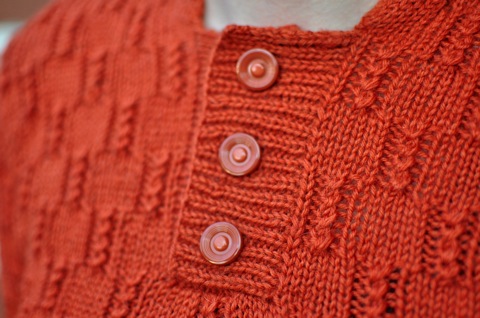 Buttonmania came through with the goods, button-wise. When I took the jumper in to Kate, I'd decided that dark brown leather buttons were the way to go. The buttons I walked out with are definitely not dark brown or leather, but I really like them.
As it was a pretty straightforward and fun knit, I'd really like to make the pattern available for others to knit, but have no idea how to establish whether it's out of copyright. There's no date on the pattern booklet, and as far as I know the company that produced the booklet is no longer in business. Anyone have any pointers on how I can go about establishing if it's out of copyright, or getting permission to reproduce the pattern here?