I heart tweedy cables
November 12th, 2013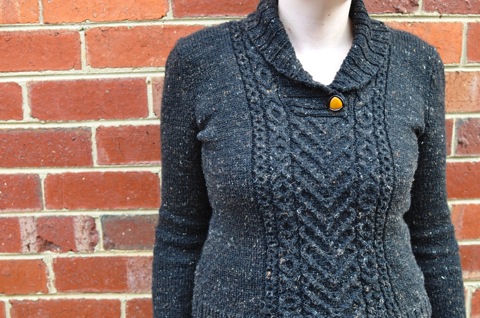 I Heart Aran by Tanis Lavallee
around 600g Bendigo Woollen Mills Highlands, Cinder
4.00mm and 3.50mm needles
Started: October 2012
Finished: October 2013
Ravelryed: here
I Heart Aran is the second last of my old modern FOs from earlier this year. All the knitting and seaming was finished in time for this year's Bendigo Sheep and Wool Show, but it took until a couple of weeks ago to sew on the button. Sometimes 10 minute jobs require months of mental preparation.
It's the perfect winter jumper with its tweed and cables and a collar I can snuggle into. Even though I opted to knit it out of 8ply instead of aran weight yarn, I can confirm that it is an excellent shield against bitterly cold and wet days.
Because I made it out of 8ply, I made a heap of little alterations to the pattern to make the yarn/pattern combination work. I also lengthened the sleeves and used a three needle bind off at the shoulders rather than the suggested grafting. For a jumper this heavy, I think grafting shoulders together would lead to the jumper dropping; it's really a spot that needs the structure of a seam.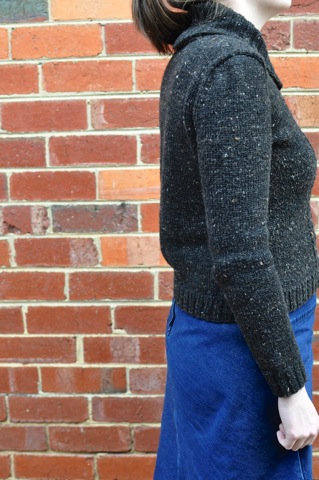 If I were to make it again, I'd make the body a bit smaller (it's a lot roomier than I'm used to!), make the shoulders narrower and change the collar so that back of the jumper is cast off and stitches picked up, rather than using live stitches. Like the shoulders, I think a large shawl collar like this one needs the structure of a seam. Otherwise, it starts to collapse on itself like it's starting to here: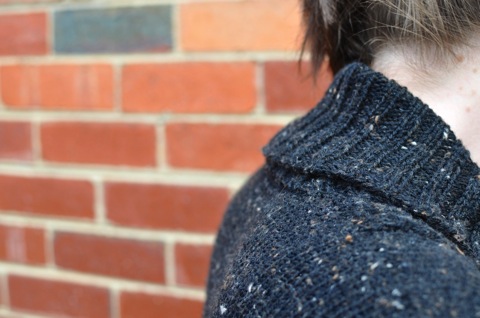 These concerns don't detract from the jumper too much, but it makes it hard to recommend the pattern. I don't think it's a pattern you can blindly trust and follow; there are quite a few spots where more detail could be provided and better, more appropriate, techniques could be used. So, if you're super keen to make it, I highly recommend having a really close, critical read through before casting on.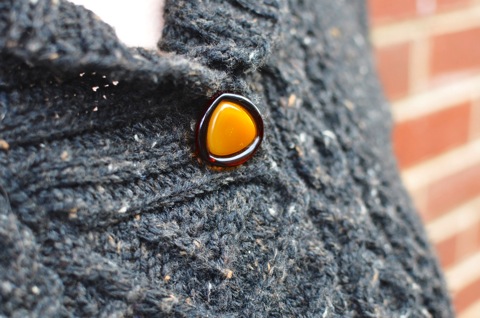 Lastly but not leastly, my absolute favourite part of this jumper has nothing to do with knitting. I picked up this vintage button not long after casting on, and I've been marvelling at its shiny butterscotch-like form and colour for nearly a year. I'm not entirely sure that it matches the jumper, but I'm so pleased it's in use and no longer simply a desk ornament.
It came from Haberdash in Castlemaine, a place I cannot speak highly enough of. If you have even a passing interest in vintage crafts, this place is well worth a visit. It's a treasure trove.