The tie
September 1st, 2013
It's Spring and it's windy so it's the perfect time to get Matt outside to model the tie I made him earlier this year.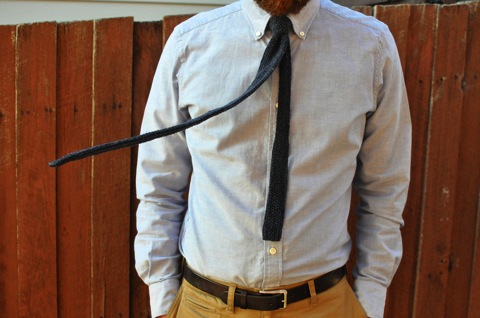 Seed Stitch Tie, a hybrid of a Lion Brand pattern, a tie pattern from Knit Two Together and a TECHknitting tutorial
Around 30g Habu Textiles A-1 2/17 Tsumugi Silk, dark blue (held double)
2.00 and 2.25mm needles
Started: Some time in 2012
Finished: April 2013
Ravelryed: here
The last mention of this project was aaaaaalllll the way back in November, where all that was left to do was the seaming. At first I tried using mattress stitch (my default seaming method) with the stocking stitch 'tram tracks' on the inside. It may be an exaggeration, but I hated every minute of it. The seaming made the tie snake this way and that, and keeping the tram tracks on the inside was making it puff out into a tube. It was doing pretty much the exact opposite to what I wanted the tie to do. In desperation, I unpicked the seam, flipped the tie inside out (so the tram tracks were outside) and used back stitch. It seemed to do the trick!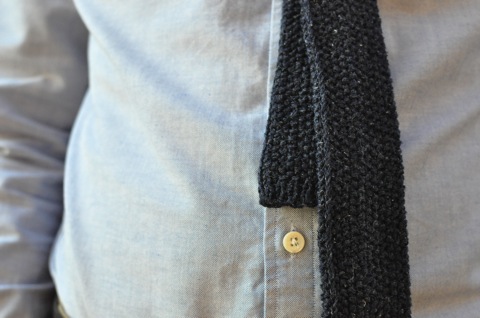 It still snakes a little from side to side and now you can see the tram tracks on the outside edge of the tie, but let me assure you it's a lot better than what it was. It's gone from 'please don't wear this in public ever' to wearably wonky.
Tsumugi Silk has a great tweedy-ness to it which lent itself well to this tie. The only drawback to it is its lack of memory. Since coming off the needles, it's dropped a little bit, and I can see that it's going to need periodic shortening. If I knit another tie using this pattern(s), I'll be using something with a bit of memory. Hopefully that'll stop it from stretching out so much.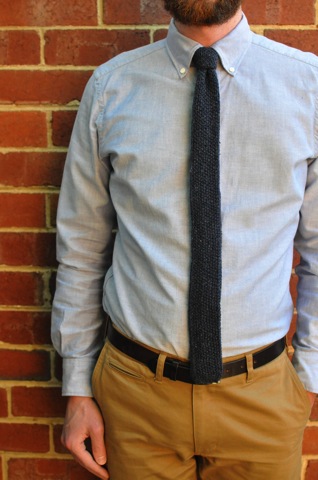 Since Matt's been reading the menswear blog Put This On, the mark of a good tie seems to be based largely on the tie knot and dimple. This tie appears to make a good knot and hold quite a sizeable dimple, so for all my griping, it's mission accomplished.