Rollin'
July 8th, 2012
Not long after finishing the tote, I started working on another project from the sewing course I started earlier this year. It was a supplies roll up, something I really needed for my double-pointed needles. Up to this point, my collection had languished in a draw and locating a matching set usually required spending some quality time with a needle sizer.
The project was going swimmingly until the thin cotton lining had to be attached to the canvas outer. The instructions required attaching the pieces with wrong sides together, and I had no end of trouble getting the two pieces to sit together nicely. They were the right size given the measurements in the pattern, but no matter what I did, the two pieces wouldn't stay just so and they ended up looking messy. After four or five attempts to get it to work (sadly this is no exaggeration), it got put aside until such time as I felt I could revisit it.
Yesterday I got the pieces back out again and tried a different approach. Instead of sewing the pieces together wrong sides facing, I sewed them together right sides facing, turned the piece right side out and top stitched around the edge to secure the pieces together. It worked much, much better for me and before I knew it, the roll was finished.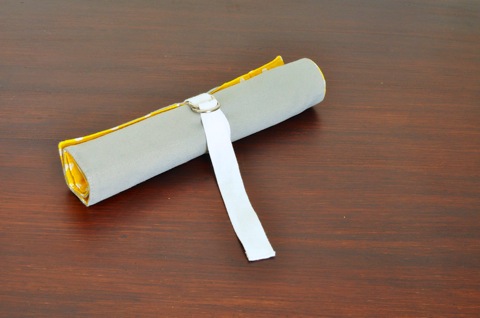 It's by no means perfect. There are a number of things that are wonky, but mostly it looks pretty good and I'm pleased enough with it that it's already in use. The lining is already a bit wrinkled, because I've been rolling and unrolling it in a manner not unlike Homer Simpson.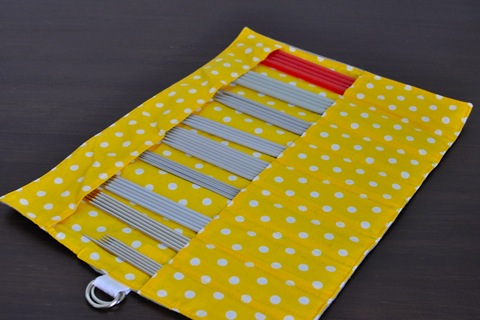 It's the win that I really needed. I've been feeling quite unenthused about my knitting and sewing of late, mostly due to things going wrong (due to mistakes on my behalf and not on my behalf). Now that I've finally finished something and feel pleased with how it turned out, I feel like I'm getting back on track. Fingers crossed for smoother crafting seas ahead.