Wednesday, February 22nd, 2012
Over the Christmas break, I borrowed my sister's Manu and added pockets to it. It was one of those projects that wasn't particularly involved, but it was one where I got to a certain point and thought 'oh, I can't be bothered with this right now' and left it for a week (or two or three).
The sticking point was seaming the sides of the pocket flaps to the cardigan. It wasn't a difficult job, I just couldn't be bothered dealing with the rigmarole of getting the pockets lined up. Once I got my motivation back, otherwise known as 'I'm going to see my sister in a couple of days so I'd better get a move on', it didn't take long to do at all.
My opinion of the pockets is not relevant, given it's my sister's cardigan, but I'm going to give it anyway. Sadly, I think they muck up the line of the cardigan, and detract from its nice simple lines and details. When I have my hands in the pockets it doesn't look too bad: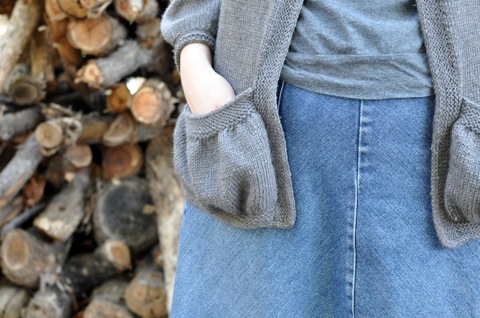 But the pockets sans hands don't really appeal to me at all.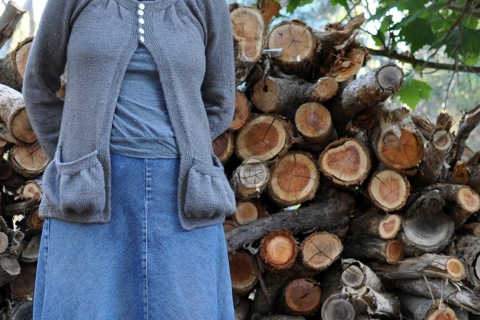 A lot of this has to to with the yarn I used. Pear Tree 8ply is 100% wool and doesn't have much drape. A drapey yarn is recommended in the pattern. While the more 'structured' yarn, for want of a better adjective, worked well for the cardigan itself, it just doesn't suit the pockets that well. It bulges where a yarn with more drape wouldn't.
I am a bit disappointed, though not surprised, by the outcome. However, my Mum reports that she often sees my sister wearing it, so if the recipient is happy, then I am happy. Mostly.