Matt's Dashing Jumper
January 6th, 2011
Thank you everyone for your kind words and new year wishes. I hope the start of the year has been nice and relaxing (or completely frantic, depending on your preferences).
It seems difficult to start with the new year with the past still lingering in the background. As mentioned in the previous post, I'm really pleased with 2010's last finished knitting project.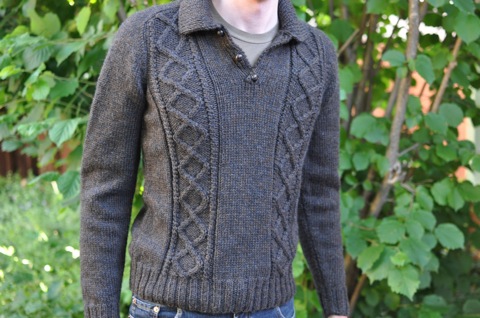 Shirt from Patons book 929, Quiet Days in Jet and Skol
5.5 skeins of Cascade Yarns 220 Heathers, Bainbridge
3.75mm and 5.00mm needles
Start: September 2010
Finish: December 2010
Modifications: Shorter body, lengthened sleeves
Ravelryed: here
This is the second jumper I've made for Matt and I think it was a much greater success than the first one. Most importantly, this is the first attempt at knitting it, as opposed to the one and a halfth or second or whatever version I got to on the suave sweater. It's also a bit more fitted than the first one so I think it'll get a bit more wear. All in all, another win for Patons knitting patterns from the 70s!
Like most of my knits these days, it was largely stocking stitch, but I don't remember getting bored at all. In fact, I'd go as far as to say that I'm in slight mourning that I don't have to work on it anymore. That's not to say I'll be unravelling it and starting again though…
Cascade 220 was great to knit with. The yardage/meterage was fantastic and the colour matched the pattern well. Initially I had concerns the twists would disappear in the slightly flecky yarn, but I think it looks fine. Most importantly, 6 skeins was exactly the right amount. There's probably enough left over for a hat, but not much more.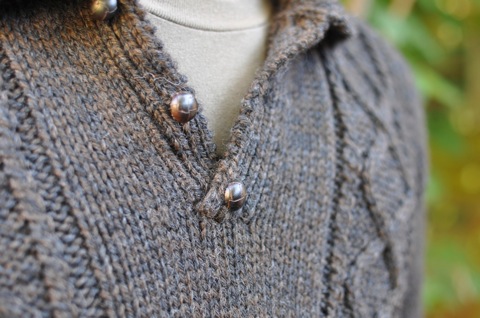 The buttons, as usual, are from Buttonmania.
Normally the end of a project signals the beginning of another. In this case, finishing Matt's jumper brought me back to two works in progress which is my usual number. I'd love to start something new, and have already chosen my next project, but really must finish something off first!