Little details
December 19th, 2010
It's astounding how seemingly quick projects can be held up by little, but important, details. A fine example of this is a couple of small baby items I started nearly two months ago. The knitting portion of the projects was completed very quickly, but finding the right buttons was really difficult. I visited all my usual haunts (and lamented the shrinking collection of buttons at the Elizabeth Street Clegs), but couldn't find anything suitable. Finally the right buttons were found and the projects finished.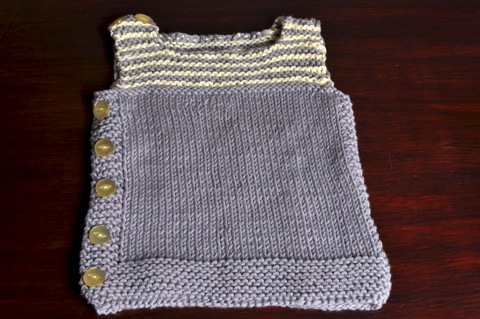 Pebble by Nikol Lohr
1 ball Freedom Sincere DK, grey; a skerrick of Freedom Sincere DK, yellow
4mm needles
Start: November 2010
Finish: December 2010
Modifications: slightly larger needle, small row- and stitch-count changes accounting for gauge, striped garter stitch section
Ravelryed: here
Now that it's all done and photographed, I'm a little disappointed with how this version of Pebble turned out. Pretty much all of this is down to two decisions I made when first starting Pebble.
The first problem is the yarn choice. As my friend's baby was due in November, I thought using a cotton yarn would be more practical as we'd ordinarily be heading into warmer weather. So far, this summer can only be described as tepid, so a wool-based yarn might have been ok. It's been quite some time since I've worked with cotton, and had forgotten how unforgiving it is relative to wool. So, the fabric's probably a bit more uneven than I'd like, and some of the weaving in of ends shows through a little bit on the front.
The second problem is my dogged insistence to have a striped yoke (if it indeed can be called a yoke). Initially I wanted to make the garter stitch section blue, yellow and grey. As it wasn't possible to hide the edge where I carried the yarns, it looked really messy and was quite bulky. By this stage my friend's little girl was born so the blue was ditched and the garter stitch section consisted of grey and yellow stripes. Even with one less colour and strand of yarn it still looks a bit messy and bulky.
Despite my mild disappointment with the end result, I think, and hope, it's still wearable.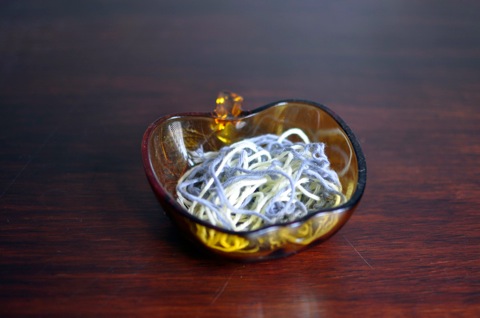 One thing I should mention about the pattern is the number of ends it produces. This wasn't helped by using two colours in the top section, but it still seemed like quite a large number for such a small garment. The photo above shows how many ends were woven in… So don't be fooled by the fact it requires no seaming. You will be paying for that privilege in the form of weaving in ends.
Happily, the other quick project for my friend's baby girl turned out quite well. As it happens, there's a free bib pattern out that roughly matches the pebble vest.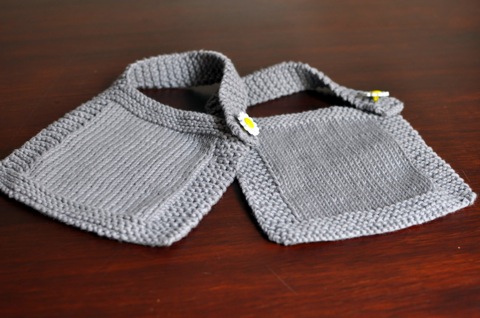 Easy Peasy Baby Bib by Michelle Acuavera
Scraps Freedom Sincere DK, grey
4mm needles
Start: November 2010
Finish: December 2010
Modifications: smaller needle, small row- and stitch-count changes accounting for gauge, striped garter stitch section, press stud closure
Ravelryed: here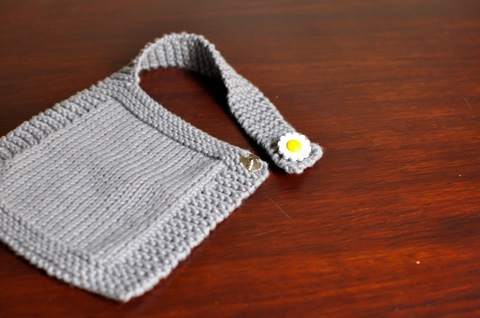 These were very quick to make and a good use of leftover grey yarn. Small modifications were made to the number of stitches cast on and rows worked because I used 8ply instead of the recommended worsted weight. After a small amount of market research, I opted to use a press stud as the closure rather than a button hole. According to a friend with an almost 2 year old, a buttonhole closure might prove a bit fiddly. It looked a bit plain with the hidden press stud, so a button was added for purely decorative purposes. I did toy with making some bibs using the yellow cotton, but decided pretty quickly that it wasn't nearly as practical a colour as the grey.
It was quite a relief to get something, no matter how small, finished. It felt like quite a while since I'd triumphantly snipped off the last woven in end of a project!