Podstermatic
August 5th, 2010
Matt's fingers have been suffering this winter. While I've been getting by just fine with my Herringbone Mittens, Matt's gloves gave up the ghost in Japan. In their stead, he's been trying to survive with a pair of fingerless mitts I made for him in 2006. Fingerless mitts seem to be fine when it is barely cold, but as soon as the weather even marginally resembles Winter, they are completely insufficient.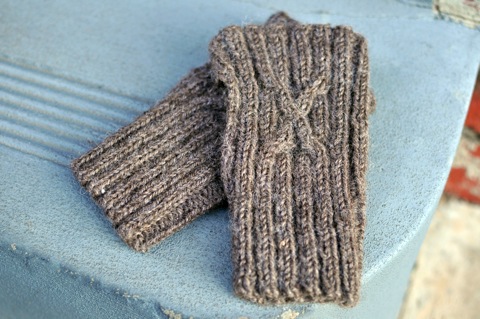 He was well overdue for a pair of knitted gloves, particularly because I'd promised to make him a pair after I made my Dad a pair of Knucks a few years ago. In what can only be described as perfect timing, just as I was starting to look for glove patterns, Ozknitter pointed me in the direction of a nifty mitten pattern that would do the trick.
Presto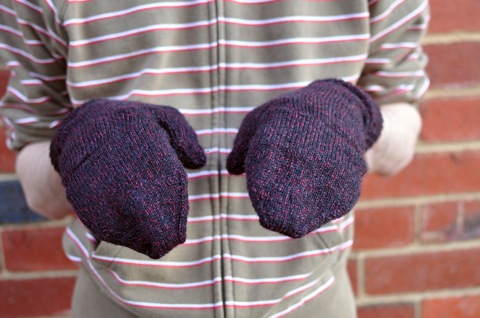 Chango!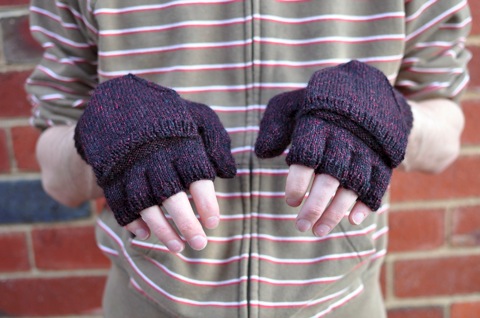 Podster Gloves by Glenna C.
Sock yarn from the Bendigo Woollen Mills bargain room (equivalent to Heirloom Argyle)
2.75mm needles
Start: July 2010
Finish: July 2010
Modifications: different yarn, larger needles, added rows to the thumb gusset
Ravelryed: here
The largest size offered by the pattern were for small mens' hands, so I used 2.75mm rather than 2.5mm needles and added two more rounds to the thumb gusset. With these modifications, they fit pretty well.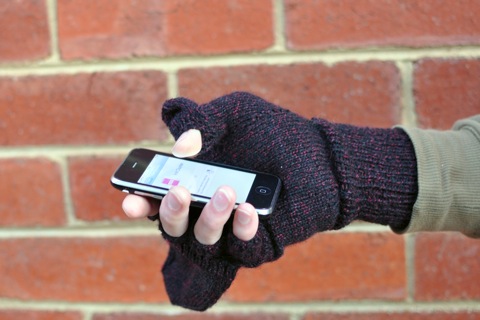 By far the best part of this pattern is the podster thumb. It has a little flap so he can flick his thumb out and use his iPhone (iPhone touch screens are unresponsive to gloved fingers). The pattern calls for part of the flap to be knit separately and then attached to the thumb, but was a little unclear about how to sew it down. I ended up using a whip stitch which probably wasn't the best option, but it's pretty secure and the dark yarn hides a multitude of sins. The long cuff is also really good, and can be easily tucked under jumpers or jackets.
So far, they've been worn nearly every day since I snipped the last end off. Nothing says success than that.