Sunday, December 21st, 2008
The gifts I have knitted for Christmas this year are slowly starting to make their way to their recipients. The first ones to go were 2 Elijahs. They have both been renamed, I suspect inspired by an epic trilogy of movies an actor called Elijah had a major part in. Although I know they will be well loved and cared for, it was very hard to let them go.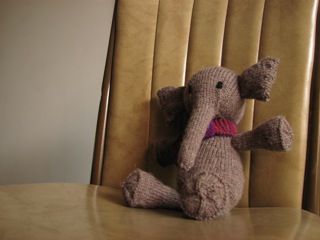 The first Elijah (let's call him One) was made around Christmas time last year. However, as I couldn't get the other Elijah (Two) made in time for Christmas last year, One stayed with me all through the year, waiting for Two to be made. The only photos I have of One were taken soon after he was finished, terrible photos taken under incandescent light. When I meet up with One's new owner in the new year, I'll take some hopefully better photos.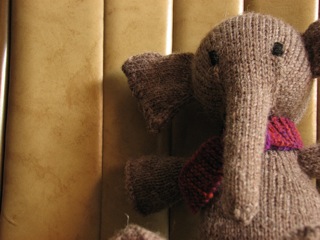 Elijah by Ysolda Teague
Approximately 100 grams of Bendigo Woollen Mills Rustic 8 ply in Earth
Scraps of Noro Kureyon Sock, colourway 180
Scraps of random 8 ply black acrylic
Both One and Two were comfortably made from one ball of Rustic. I think Earth is a perfect elephant colour, being a nice mix of light brown and grey. To distinguish between the two, I knit small garter stitch scarves from scraps of Noro Kureyon sock yarn, left over from another Christmas present which is currently blocking. I had real trouble with getting the french knots to look even for both One and Two's eyes, so I opted to embroider (in the loosest sense of the word) small rectangles using scraps of black 8 ply acrylic.
It seems that in the intervening period between knitting One and Two, my gauge had become a bit looser, as Two turned out a little bigger, despite using the same yarn and needles. I also think I'm knitting a little faster these days, as Two took a smidge over a week, which seemed a lot shorter than the time needed to knit One.
I shall end with my favourite part of Elijah: his hands and feet. I think it's a lovely pattern, and very easy to follow, but doing the arms and legs were my favourite part, both times round. I find them almost too cute to deal with.