Sunday, June 15th, 2014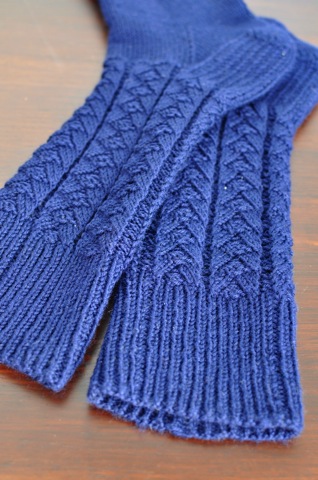 Herringbone Socks from New Sock Fashions in Wool by Styled by Hilda, via Free Vintage Knitting Patterns
120-ish grams Patonyle 4ply, Navy
2.25mm and 2.50mm needles
Started: April 2014
Finished: May 2014
Modifications: Switched back to the smaller needles for the foot
Ravelryed: here
Whew. Now I've got the last post off my chest (thank you everyone for your kind words about the jumper), I can move onto happier things.
Over the Easter break, I wanted to do work on something that wasn't a cardigan so I cast on these socks. They were a dream to knit; the pattern was interesting but easy to remember, the slip stitch heel flap created a lovely spongy fabric and even the most monotonous part of the sock (the feet) flew by. This is how I remember knitting being.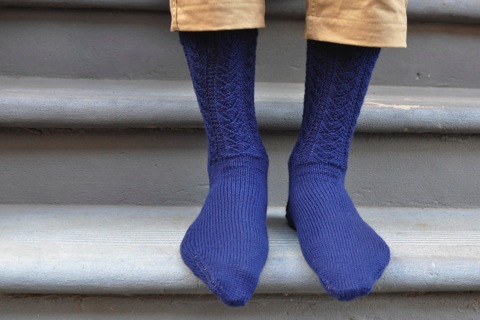 I really liked the not-very-herringbone herringbone pattern, but it does look a bit gappy on Matt's skinny legs. The decreases for the toe and heel suffer from the same gappiness, so I wonder if it was a combination of the pattern, the yarn and my technique. It doesn't matter too much, as Matt seems very happy with them and they still look quite handsome despite the flaws. It's also another addition to his sock drawer; hopefully one day soon we'll reach a point where handknit socks are for wearing and not just for admiring and worrying about destroying them through wear.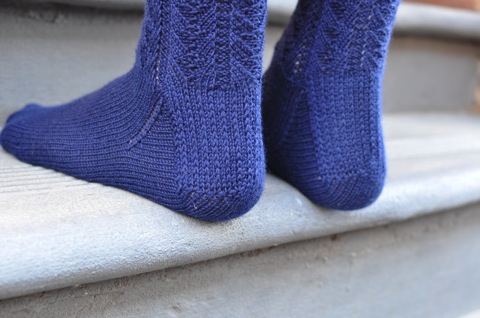 Although I didn't end up finishing them by the end of the Easter break, I did finish them at the same time as Matt finished a wee project he'd been working on for the last few months (avert your eyes if you're sensitive to product plugs, there's a shameless one ahead). It's called RavExporter, which is a plugin for iPhoto and Aperture that allows Ravelry users to export their photos directly from iPhoto or Aperture into a project or stash item. The backstory is that I use Aperture on my Mac to store all my photos, and it can get quite unwieldy when I'm trying to import stash or project photos into Ravelry. So, Matt wrote this plugin so I could get my photos into Ravelry more quickly. Productivity! If you're a Mac user that uses Ravelry, do check it out. We'd love to hear what you think of it.