Sunday, May 25th, 2014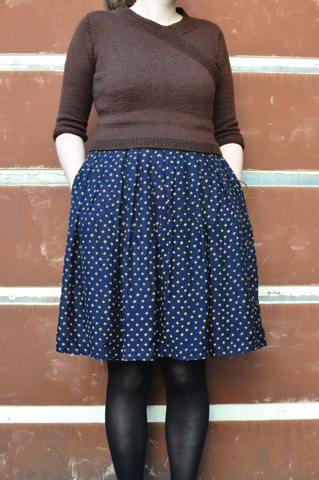 A Becoming Cross Over Line from Family Knitting in Thick Wool (from My Home Magazine)
400-ish grams Bendigo Woollen Mills Luxury 8ply, Acorn
3.25mm and 4.00mm needles
Started: June 2013
Finished: March 2014
Modifications: Where do I begin?
Ravelryed: here
This project was an excellent example of the gulf that sometimes exists between perception and reality.
I chose this project as my knitting travel companion for a holiday last year. The other contender was my Tri-Cable Stitch Jumper, that four-ply cable number from A Stitch In Time Volume Two. At the time, a cropped, mostly stockinette, 8ply jumper seemed to be the project that would cause the least amount of hassle while traveling around.
This is the point where my perception of the project became divorced from reality. In the few blog posts since coming back from the holiday, I'd mentioned the many hassles I'd had with the pattern. In the end, these are the modifications I made:
Cast on more stitches for the waist
Dropped the neckline, affecting the two front pieces and the neckband
Removed the buttonholes from the neckband
Knit the sleeves using Tasha's top down in the round method
Seamed up the neckband so it became a pullover rather than button up jumper.
By the time I'd gotten to the fourth or fifth attempt at the sleeves, I was worn out and became lazy. So, the sleeves shows the scars of a yarn that has been frogged and knit and frogged and knit and frogged and you get the picture. I'm hopeful that as I wear and wash it, the scars will settle to charmingly minor variations in the fabric.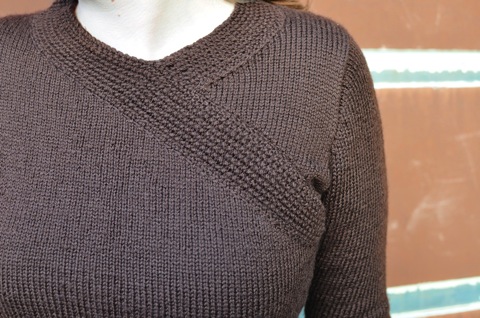 Once I worked out that I could seam up the neckband and still be able to fit my generously-sized head through the hole, I quickly seamed it up and called it done. The point where the sides meet up to make the v is very wonky and disappointingly unpolished, but there comes a point in some project's life where it just needs to be finished.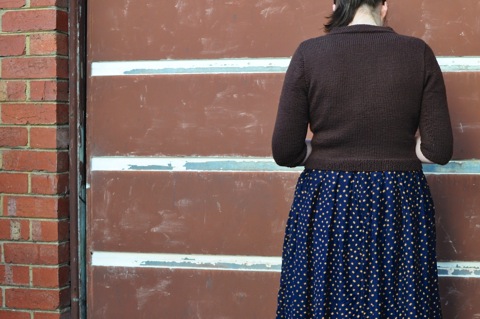 Despite feeling mildly exhausted and disappointed whenever I wear it, it turned out not too bad. I really like the length of the sleeves and the cropped length makes it perfect for the fit and flare dresses I wear it with. I most certainly won't be making this pattern again, but cropped jumpers and cardigans definitely have a place in my wardrobe.
This jumper seems to epitomise the difficulty that sometimes comes with vintage patterns; when you run into trouble, you're generally on your own. This time the battle was worth it, but lordy did it ever try my patience!