Saturday, March 16th, 2013
Just in case you needed reminding, it's March! I have no idea how we got to March already, but here we are, and here is this year's Bendigo Woollen Mills shade card. I don't know if there's such a thing as shade card spoilers. If there is, consider this your spoiler alert.
This year I was more excited about writing this compare/contrast post than finding out which colours have gone and what's replaced them. A lot of this is to do with the current status of my stash, but part of it related to a deep-seated desire to be a shade card analyst when I grow up.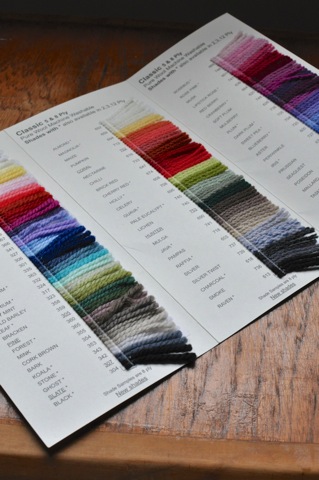 Here's a summary of the differences between the 2012 and 2013 shade card:
Luxury
Pink (shade number 338), Acorn (345) and Desert Pea (346) discontinued
Fuchsia (magenta-purple, 303), Pine (dark green, 305) and slate (dark grey!, 307) added
Slate (307), Lotus (322), Aquarium (324), Sunflower (344), Forest (360) added to the 10 ply range, with Frost (312), Brick (361) and Purple Storm (367) discontinued from the 10ply range
Classic
Passionfruit (749), Coffee Bean (750) and Burnt Rose (751) discontinued
Coral (orange-pink, 752), Hunter (dark green, 753) and Blazer (dark blue, 754) added to the 5 and 8 ply ranges
Charcoal (618) and Cranberry (664) added to the 2/3/12 ply range
Alpaca Rich
Rich Sky (409) and Rich Fern (410) discontinued
Rich Azure (mid blue, 419) and Rich Rust (brown-red, 420) added
Rustic
Wineberry (928) and Carbon (929) discontinued
Linen Fleck (very light brown tweed, 904) and Cinder Fleck (black tweed, 902) added
Being a new colourway is evidently a tough old business at the Bendigo Woollen Mills, because the majority of the colourways discontinued in 2013 were added to their respective ranges in 2012. Of all the discontinued colourways, I'm feeling most sad about the demise of Acorn from the Luxury range. I thought Luxury was crying out for a nice chocolate brown like Acorn, so I'm surprised to see it go.
The only comfort I can take from the discontinuation of Acorn is the introduction of Slate, a very nice dark grey. From the teeny tiny sample in the shade card, it's the sort of grey that I could wear all the time. Because I like it so much, I full expect to be panic buying both 4ply and 8ply versions when it's discontinued next year.
I was also quite pleased (and surprised) to see Cinder Fleck introduced as a Rustic colourway. I bought a few balls of that colourway when the limited edition Highlands was available, but was kicking myself for not buying enough to make multiple jumpers from it. As a yarn, Highlands always seemed very Rustic-like to me, so I think the colourway will translate well in Rustic.
That's enough shade card analysis from me for the year. If you get the Bendigo Woollen Mills shade cards, what did you think of this year's effort?