Restless knitting
May 8th, 2010
I've been a bit restless with my knitting lately. Swatches have been knit, but I don't feel particularly drawn to any one pattern. This is a bit of a problem because it creates a small knitting vacuum; besides one secret squirrel project, I don't really have anything on the needles, but I feel I should be doing something.
The current knitting situation seems to be a good reflection of my non-knitting life of late. I have niggling feeling, that I can't articulate and can't work out why it's there. This means I can't work out how to fix it, which starts the restlessness all over again. 'Tis quite a frustrating cycle.
All of this started soon after finishing these knitterly morsels, and thus it's only fair that they are blamed for this bout.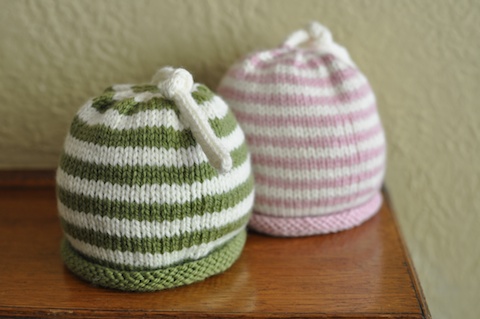 Umbilical Cord Hats by Jennifer L Jones
Small amounts of Bendigo Woollen Mills Luxury 8ply, in cream, pink and bracken
4mm needles
Started: April 2010
Finished: April 2010
Modifications: Used a lighter weight yarn, and slightly smaller needles
Ravelryed: here
A couple of the guys at work recently became fathers for the first time, which presented a prime opportunity to knit baby hats. I suspect the hats are a bit big for newborns. However, I have it on good authority that babies grow, so the size shouldn't be too much of an issue.
The yarn, Bendigo Woollen Mills Luxury 8ply, is really good for baby knits. It's lovely and soft to knit with, has a good range of colours and is machine washable. I think Luxury 4ply would work well with some of the vintage patterns I have earmarked as future projects.
The pattern is from Stitch n Bitch, the first knitting book I bought after starting to knit again. Although the book is really well worn, I've only made a couple of things from it and was recently contemplating giving it away. These hats prove that reference books should almost always be kept (my second year Business Finance text book is an exception to this rule).
If only I owned a book on how to get my knitting back on track…