Snicket
October 12th, 2008
Even though I mentioned that gift knitting wouldn't really be blogged until it was in the recipient's possession, I'm still going to blog about this one. So, if you happen to be my mother, look away now!
Snicket (Ravelry link) is a project that ticks all the boxes for me right at this very point in time. My Mum, whose birthday is at the end of this month, has made positive noises about me making a pair of socks for her, I've been itching to do some cabling and I'm currently quite enamoured with single ridges of rib against large sections of reverse stockinette. Can't go wrong, really!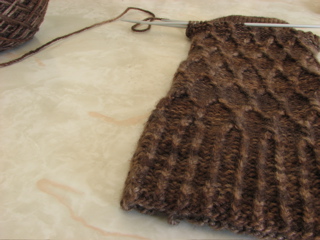 Georgie recently blogged about knitting epiphanies. My most recent one was a couple of centimetres into the cabling on Snicket. I was sick of the mess of needles that I had from cabling in the round, so I learnt how to cable without a needle using this very clear and useful tutorial. I think Snicket's a really good project to learn this technique, as you're only ever switching one stitch over at a time.
The heel of the first sock has just been turned, so I do need to get a wriggle on, but I'm relying heavily on the assumption that the second sock goes quicker than the first, despite the threat of second sock syndrome. I'm really enjoying knitting with this yarn, cashmere merino sock from the Knittery, so I'm hoping that will help me get through any tough times.
The only drawback to this yarn is that it has a wee bit of a halo to it, which seems to be causing all sorts of focus problems for my camera, even when using manual focus. So, apologies for the slightly fuzzy photos.